SLO County Golden Retrievers is a group of
Central Coast Golden Retriever loving individuals.

SLO County Golden Retrievers Club was formed in July 2008
after we kicked off our first annual Goldens in the Park event
in SLO's very own Laguna Lake Park!
This event hosted over 100 Golden Retrievers
all in one place at the same time and raised thousands of dollars
for the Woods Humane Society!

Save The Date ~ July 9, 2016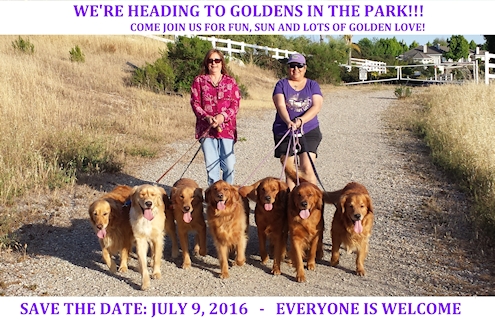 Come Join Us Every Month!
Goldens (and their owners) meet the last Sunday of every month at the
Doggie Park at Laguna Lake Park in San Luis Obispo!

Just come hang out, visit and have fun.
Laguna Lake Park off Madonna Road from 1:00 to 3:00

Click Here for MeetUp Info
© 2016 SLO COUNTY GOLDEN RETRIEVERS
Page last modified 1/23/2016
webmaster Vivian Krug